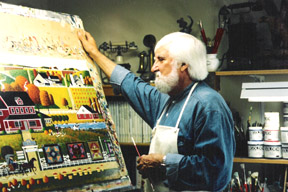 Colorful Americana



Harry Wysocki has been prominent on the American art scene for many years. He was born in a Polish-American neighborhood in Detroit and later moved to Los Angeles, where he graduated from Art Center College of Design. Shortly after the end of World War II, Harry enlisted in the Merchant Marines and sailed the high seas to exotic ports, which became subject matter for his early works. In Japan he was commissioned to paint the History of the Army Airborne Engineers, which he executed in a series of six murals. Working with Japanese artists, he was inspired by the art of Hiroshige, whose influence is apparent in his early works. After returning home from Japan, he started experimenting with art nouveau and art deco styles.

His work has been exhibited in the Detroit Institute of Arts, the Museum of Science and Industry in Los Angeles, and the San Francisco de Young Museum. Numbered among his many accolades are nineteen national and local awards from print shows in New York, Chicago, Detroit, San Francisco and Los Angeles. Three of his prints are now in the permanent collection of the Smithsonian Institute in Washington, D.C., as well as one painting in the United States Air Force Art Collection. He has had one-man and group shows at numerous galleries.

Wysocki prints have been sold in every major country in the world. The Statue of Liberty Restoration Foundation authorized him to create limited edition prints depicting the unveiling of the statue. Harry was commissioned by Life Magazine in 1988 to paint a four foot by seventeen foot mural entitled Children of America.

The artist describes his Americana paintings as nostalgia: a time before computers, hi-tech movies and fax machines, when traveling by horse and buggy were the mode of transportation. He finds a lighthouse, an old hotel, a railroad station, and then the historical research begins. He delves into archives, haunts old book stores, or talks to old-timers who remember "the way things were", and the painting begins to evolve. The finished portrayal is history, nostalgia, and fantasy.

Harry Wysocki lives in Cambria, California with his wife and two cats.



View