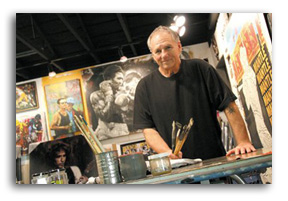 Stephen Holland Fine Art



"I paint tough guys," says artist Stephen Holland.

The Santa Barbara-based fine artist has made a career of painting his 'tough guys'. From Mohammed Ali to Clint Eastwood, Holland's artwork captures the special quality of greatness that has propelled these remarkable individuals into the public limelight.

Stephen Holland grew up in New York in the 1960's. As a young boy he suffered from a degenerative hip condition and wore a leg brace that kept him from playing with his friends, but other talents blossomed and he grew adept at sketching his friends and teachers. He attended a special high school which devoted half of each day to art studies. Holland also took classes at the Art Students League, the School of Visual Arts and the Pratt Institute.

During his 'starving artist' days he couldn't afford live models, so he painted from the photographs in boxing magazines, where magnificent physiques were displayed in powerful action poses. Soon he branched out to football stars and other disciplines of sport. Holland read the stories behind the famous athletes and was inspired by their commitment, focus and determination. He made a pledge to himself to invest the same level of dedication to his artwork.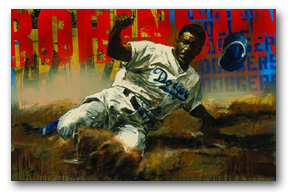 The artist begins by thoroughly researching his chosen subject and looking at hundreds of photographs. Then he moves to the canvas, depicting the quintessential moment of dramatic action that defines the athlete or performer.
The background is kept loose and almost graffiti-like. Acrylics and spray paint are the dominant mediums, with additional elements like pencil, crayon and even dirt occasionally employed. Stephen Holland has created a style perfectly suited for his intense, gritty, in-your-face subject matter. "It's not so much about the rendering but about the form, shapes and colors," says the artist. "That's what makes it rich and delicious for me."
Holland's contribution to art and sports received national recognition in 1993, when the American Sport Art Museum awarded him the honor of Sports Artist of the Year. He was also named the Official Artist of the Los Angeles Kings hockey team and was chosen by the United States Olympic Committee to represent the 100th Anniversary of the Olympics. His work is found in the collections of celebrities, athletes, and private collectors around the globe.



View