A Christmas Leave, When Dreams Come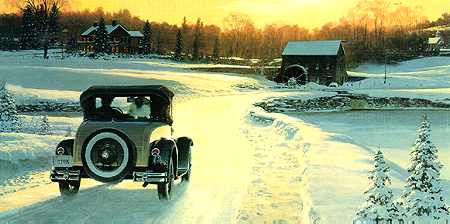 $ Call

Unframed, Limited Edition Lithograph
Image Size: 30"w x 14-3/4"h,
1500 signed by the artist and consecutively numbered
Second in a Series of Three: One year ago, collectors of the art of William S. Phillips were charmed and touched by If Only in My Dreams (sold out at the publisher), the artist's nostalgic image of a small village spending a holiday without its loved ones during World War II. Now A Christmas Leave, When Dreams Come True continues the story.
The car that was in the driveway of the first print is now on the way to a happy reunion. The dog that waited so patiently for his master's return now sits beside his owner. "The young man in the car may be on his way to a family celebration or out to play cards with the boys," Phillips says, "and although I wouldn't be surprised if he were going to see his girlfriend, I'll leave his destination up to you."
The hopeful mood extends even to the aircraft in the image. "In the first print, the plane was a B-17, symbolic of the war," Phillips explains. "Here I painted a DC-3, known in its wartime version as a C-47. That's a passenger airliner, instead of a fighter or bomber, because the soldier is home and I wanted to have a homecoming feeling."

---