Ethel the Gourmet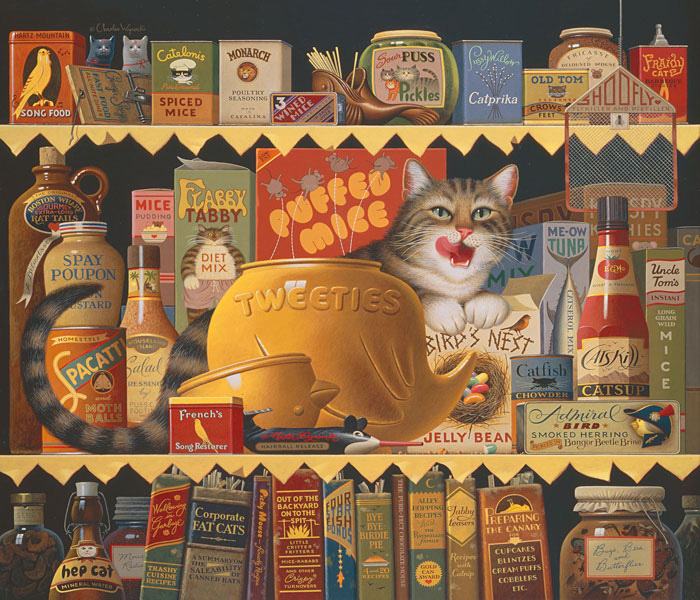 "Ethel the Gourmet" by Charles Wysocki
Signed Limited Anniversary Edition Giclee on Canvas, Unframed
Image Size: 21 X 18 in.
Edition Size: Not to Exceed 200
A Feast for Foodies and Feline Fans
Foodies and Feline fans, are ready for your Puffed Mice, Spacatti and Moth Balls and a little Catfish Chowder? Well then, Ethel the Gourmet is a work of art for you! Ethel is snuggled in among her forty-plus favorite recipes, spices and snacks. Can you find them all? Are you up for the challenge? If you do, then you're the Cat's Meow!
Ethel the Gourmet is sister to Frederick the Literate. They are named after Fred and Ethel Mertz, the neighbors, friends and landlords of the Ricardo's on the long-running television show I Love Lucy. These siblings may have come from the same litter, but clearly parted company on their way to adulthood. Whereas Frederick likes to nap in the library surrounded by the comfort of big ideas, Ethel has been busy in the kitchen. "No matter what happens," said the artist Charles Wysocki, "Ethel is there. You bring the groceries home, she's in the bag. You bring home clothes, she's in the box. Whatever you bring home, she thinks it's for her!"
This feast for foodies and feline fans has a home in your kitchen. We think you'll find Ethel the Gourmet the cat's meow. Order one for yourself and a feline-loving friend before Ethel runs off for good.
So while Frederick catnaps in his dream den, Ethel reigns over her dream pantry with every cat's favorite food on the shelves: Puffed Mice cereal, Three Wined Mice Pickled in Grape Juice and Uncle Tom's Instant Long Grain Wild Mice. And that's just the rodent menu. Ethel also has fish and birds on the brain with Catfish Chowder and Seasoned Crow's Feet for starters.
---