The Protesters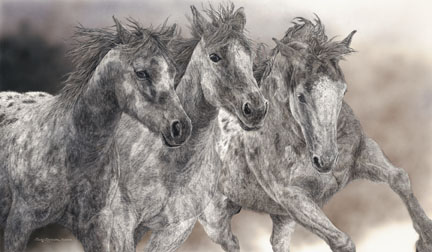 The Protesters
$ Call
"The Protesters" by Judy Larson
Signed Limited Edition Giclee on Canvas, Unframed
Image Size: 31 X 18 in.
Edition Size: 200
The Protesters (Paper)
$ 245.00
Add To Cart
Signed Limited Edition Lithograph, Unframed
Image Size: 28 X 16.5 in.
Edition Size: 1000
The Protesters
portrays three prized Nez Perce horses, running for their very lives, in an attempt to evade the three U.S. cavalry soldiers (hidden in their coats) bent on their destruction. These horses represent the spirit of the Nez Perce, which continues to survive against all odds.
---