The Fugitives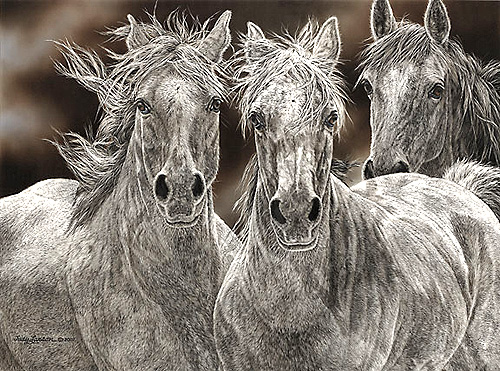 $ Call

Signed Limited Edition Lithograph, Unframed
Image Size: 23.5 X 17.5
Edition Size: 1000
All across North America the wilderness and all that is wild and free about it continues to slowly disappear. In Judy's new series, "On the Run," she concentrates on animals that either find themselves in or have found themselves caught up in dire circumstances.
"The Fugitives" is inspired by the Bureau of Land Management's plan to remove, over the next several years, nearly fifty percent of all wild horses from public lands. Running towards us from a dark background, these three are headed for a future that is even more foreboding. Larson, through her unique scratchboard and concealment technique has immortalized other members of the herd in the coats of these three wild spirits "on the run."
Look Closer...The time consuming art of scratchboard is unrivaled in its detail, allowing Judy's seemless concealment of imagery within her subject.
---