Morning Muses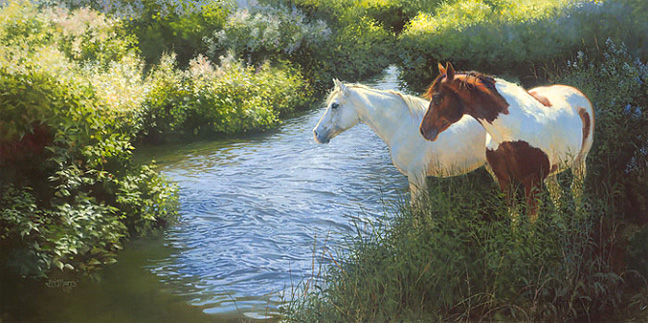 Morning Muses
$ 595.00
Add To Cart
"Morning Muses" by Bonnie Marris
Signed Limited Edition Giclee on Canvas, Unframed
Image Size: 32 X 16 in.
Edition Size: 125
Morning Muses (Masterwork)
$ Call
Add To Cart
Signed Limited Edition Masterwork Giclee on Canvas, Unframed
Image Size: 48 X 24 in.
Edition Size: 50
Artist Bonnie Marris lives on a farm in Michigan with her husband, three horses and two dogs. Collectors of her work will recognize the coloring on this pair of friends, caught early one warm fall morning when Bonnie stepped outside to check on them. Her horses are her muses and she never tires of following the light moving across their backs throughout the day and the way the whites and shadows in their hair change colors.
"I love this painting because it is as much about the relationship between the horses as it is about the lighting at this time of day and the textures in the grass, alongside the ripples in the water. It's a meditation, a very soothing piece."
---