Flour Child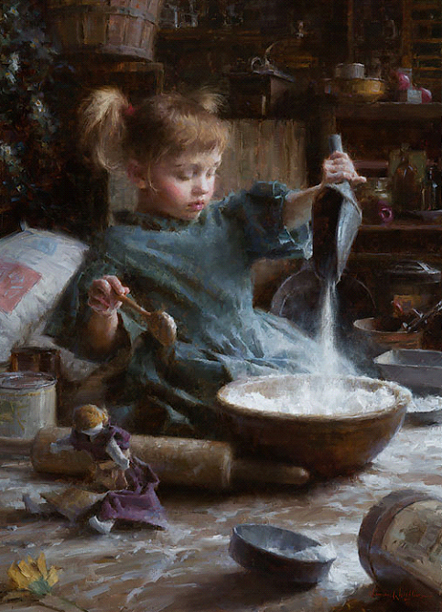 Flour Child
$ Call
"Flour Child" by Morgan Weistling
Signed Limited Edition Giclee on Canvas, Unframed
Image Size: 13 X 18 in.
Edition Size: 100
Flour Child (Large)
Low Inventory
$ 950.00
Add To Cart
Signed Limited Edition Giclee on Canvas, Unframed
Image Size: 35 X 25 in.
Edition Size: 25
Flour Child is prime example of why Morgan is held in such high regard. Collector's bid furiously over this original at this year's Coeur D'Alene Auction. Regarded one of the finest figurative painters today, his combination of technical prowess and acuity for depicting the nuances of the human spirit are what set him apart from others.
"When I first get an idea for a painting," explains Weistling, "I usually know it's worth pursuing if the title comes with it quickly. I find endless fascination with the world that children create in their imaginations. When I set little Madison on the floor to explore the world of baking and told her she could play with the flour, I knew magic would happen. Of course, I will be finding flour residue in my studio for years to come. It was an epic mess but it brought me great inspiration."
---