Oregon Trail Family, 1848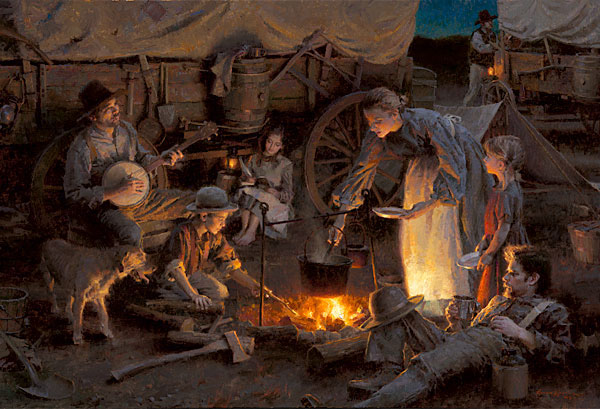 Oregon Trail Family, 1848
$ Call
"Oregan Trail Family, 1848" by Morgan Weistling
Signed Limited Edition Giclee on Canvas, Unframed
Image Size: 29 X 20 in.
Edition Size: 75
Oregon Trail Family, 1848 (Masterwork)
$ Call
Add To Cart
Signed Limited Edition Masterwork Giclee on Canvas, Unframed
Image Size: 44 X 30 in.
Edition Size: 25
"I have been fascinated with stories about the Oregon Trail and Santa Fe Trail since I was a child," says Morgan Weistling. "My grandmother used to tell me how my ancestors had travelled by covered wagon to their new home in the West. She would show me little mementos that had been handed down from that time. When I decided to finally depict a scene from this historic event, I dived into piles of research that are available. Many of the women along the trail kept diaries that give us daily accounts of their journey. I chose to capture what they called the 'favorite time of the day.' After walking for eight hours, toiling with oxen and any number of problems, they would set up for the night and rest. A campfire and some music went a long way toward spreading some peace at the end of a very hard day.
"In some ways this painting is a continuation of a theme that I plan to continue. My 2008 painting, "Indian Stories", is about a grandfather telling stories about his travels on the Oregon Trail and his meetings with Indians and the trades he had made with them."
---