The Harvest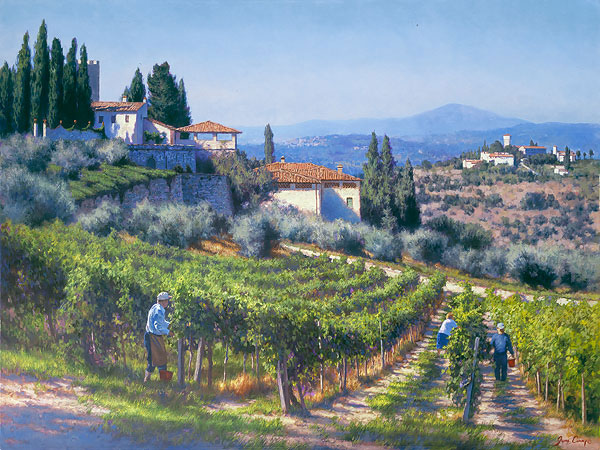 The Harvest
$ Call
Signed Limited Edition Giclee on Canvas,Unframed
Image Size: 36 X 24 in.
Edition Size: 75
The Harvest (Masterwork)
$ 1,500.00
Add To Cart
Signed Limited Edition Masterwork Giclee on Canvas,Unframed
Image Size: 48 X 36 in.
Edition Size: 35
With The Harvest, artist June Carey returns to the location of her sell-out fine art edition Lost in a View. Inspired by the hills surrounding Florence and the Castello di Verrazzano Chianti region, the painting marks the warm fall days of the Tuscan grape harvest in late September and early October. Working farmers of all ages, men and women wearing their long aprons, gather at the edge of the field, laughing, talking and sometimes singing. They then go out with great purpose and energy, carrying their red buckets through the seasoned vines which are heavy with deep blue clusters of grapes. Cypress trees surround the ancient walls of the buildings that mark the home of wine cellars since the twelfth century.
"I bought one of the red grape harvest buckets to use as a prop in the paintings. At the vineyard, the workers eyed my camera with suspicion and curiosity. I held it up and yelled 'Artista di California. E' bello!' They laughed among themselves and went back to the harvest."
---