Villa Di Castello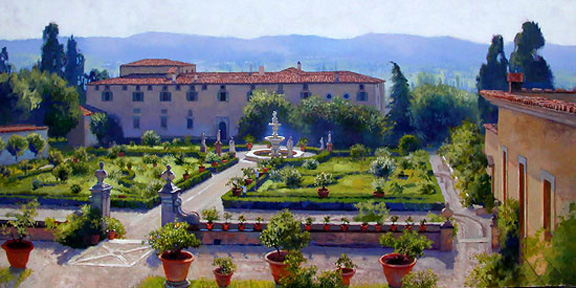 Villa Di Castello
$ 650.00
Add To Cart
"Villa Di Castello" by June Carey
Signed Limited Edition Giclee on Canvas, Unframed
Image Size: 36 X 18 in.
Edition Size: 200
Villa Di Castello (Masterwork)
Low Inventory
$ 1,750.00
Add To Cart
Signed Limited Edition Masterwork Giclee on Canvas, Unframed
Image Size: 60 X 30 in.
Edition Size: 50
In this sumptuous new landscape by June Carey she offers her vision of the grand Italian garden. On a recent trip to Tuscany, June found herself overwhelmed by the magnificent verdant light and was compelled to bring it to you it in her view of these expansive citrus gardens and their lush surroundings. Located in the hills overlooking Florence, this classic villa was built by the Medici family in the 16th century. The architecture of these enchanting gardens are a work of creative genius: the famous fountain of Hercules and Antaeus surrounded by the geometric arrangement of driveways, flower beds, bushes and intricately cut box hedges, blend perfectly with the buildings to complete a scene of unforgettable beauty.
---