First Dance, 1884 America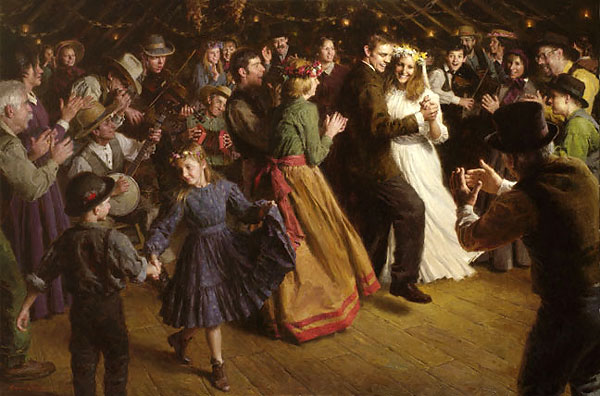 First Dance, 1884 America
$ Call
Signed Limited Edition Giclee on Canvas, Unframed
Image Size: 27 X 18 in.
Edition Size: 100
First Dance, 1884 America (Masterwork)
Low Inventory
$ 1,950.00
Add To Cart
Signed Limited Edition Masterwork Giclee on Canvas, Unframed
Image Size: 50 X 33
Edition Size: 30
The idea for the painting, begun as a sketchbook drawing years ago, had taken years to come to fruition. In addition to finding the perfect models, costumes and composition, Morgan did not want to begin on the painting until he could give it his full concentration. Finally, one day last year, he began to create what John Geraghty described in Western Art Collector as "his signature work, an absolute master work."
Why paint a wedding? "I wanted to celebrate the institution of marriage," says Weistling. "I have been married to my lovely wife JoAnn for 17 years. I thought of the commitment we made in front of family and friends and what a wonderful feeling it would be to do a painting about that."
---