The Defiant
Low Inventory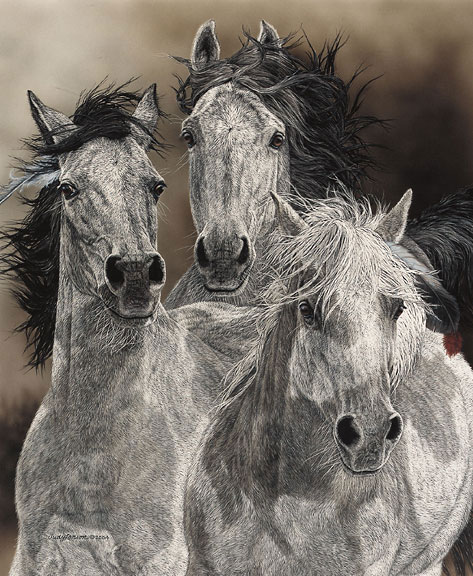 The Defiant
Low Inventory
$ 650.00
Add To Cart
"The Defiant" by Judy Larson
Signed Limited Edition Giclee on Canvas, Unframed
Image Size: 19 X 23 in.
Edition Size: 200
The Defiant (Paper)
$ Call
Add To Cart
Signed Limited Edition Lithograph, Unframed
Image Size: 18 X 21.25 in.
Edition Size: 1000
In her On the Run series, artist Judy Larson focuses on animals that either find, or have found, themselves in dire circumstances. The Defiant is inspired by a heartbreaking chapter in history. "The year was 1858, and several companies of soldiers under the leadership of Colonel George Wright were engaged in a punitive military expedition against the Native American tribes, Yakama, Spokane, Palouse and Coeur d'Alene," explains Judy Larson. "On the morning of September 8, Colonel Wright and his troops spotted a large cloud of dust which revealed the position of 800 Palouse horses. Although a valiant effort was made by the tribes to drive their horses into the mountains, after a fierce skirmish, the majority of the herd was captured. Although it was a crime to kill a horse on the frontier, it was Wright's job to subdue the tribes' powerful hold over their land and to demoralize them. It took the better part of two days to shoot, club and kill all the horses and, as the Native Americans watched helplessly from the hills, they could not believe what they saw. Today, along the banks of the Spokane River, a monument marks the site that became known as Horse Slaughter Camp." LOOK CLOSER... Through her unique scratchboard and concealment technique, Judy Larson has immortalized, in the coats of these three horses "on the run," two other members of the herd and a soldier giving chase.
---