Fire Dance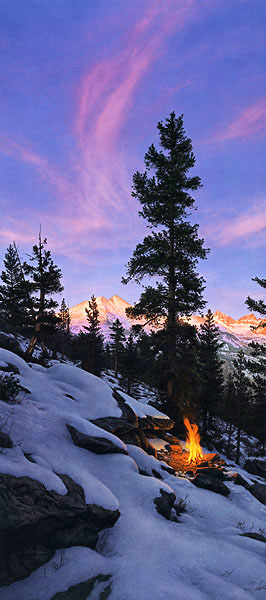 $ Call

Greenwich Workshop Anniversary Fine Art Giclée Canvas:
Order period January 15, 2005 through April 1, 2005.
Edition Size: 153 (not to exceed 250) Signed by Andrea Lyman.
30"w x 68"h (unstretched)
"The beauty of a campfire is in watching its dance," said Stephen Lyman. "The ethereal qualities are extreme, playing back and forth from the hottest part of the flame to the coolest shadowed crack in the rocks."
Stephen Lyman's passion for the wilderness is beautifully realized in the Masterwork™ Anniversary Editions of his evocative campfire images. The nearly six foot vertical reach of Fire Dance stretches the drama of this Yosemite mountainside scene to include expanses of both earth and sky. Light suffuses the air and sweeps through the sky on wisps of clouds while the mountain's flanks glow with warmth in this oversized edition.
"The alpenglow, rocks, trees, snow, clouds and dancing flames conspired to inspire me," said Stephen Lyman. "The fire warmed me, it cheered me up and dried me out … the experience was beyond words."
Greenwich Workshop Anniversary Fine Art Editions mark the debut of an image on canvas.Anniversary Fine Art Editions are available for an exclusive preset order period.Only a select number of collectors will be able to own these timeless masterpieces
---