September Gold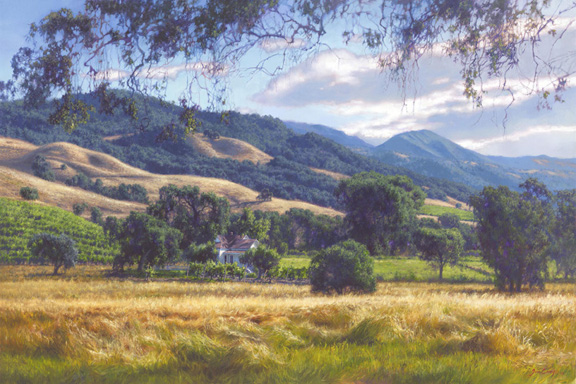 September Gold
$ Call
"September Gold" by June Carey
Signed Limited Edition Giclee on Canvas, Unframed
Image Size: 36 X 24 in.
Edition Size: 100
September Gold (Museum)
$ 1,950.00
Add To Cart
Signed Limited Museum Edition Giclee on Canvas, Unframed
Image Size: 60 X 40 in.
Edition Size: 75
"The locals say we have two seasons in California: green and gold," says artist June Carey. "In the late 1880s northern California became a source for the highest quality grain in the world, especially wheat. This period was known as the 'Second Gold Rush.' The grain was harvested and then floated down the rivers and canals on boats to San Francisco and loaded on to huge sailing ships. When the winds came the germ of the wheat and oat grasses spread and mixed with native varieties.
In the late spring now, when the rains end, the grasses adapt to the long dry summers by turning brilliant shades of gold. The fields remain this color until the fall rains bring the new green growth. In September, they are a beautiful contrast to the rich dark greens of the native valley oaks and live oaks." The golden glow of grain highlights the dawning autumn beauty of Carey's California valley in September Gold.
---