Eagles Gift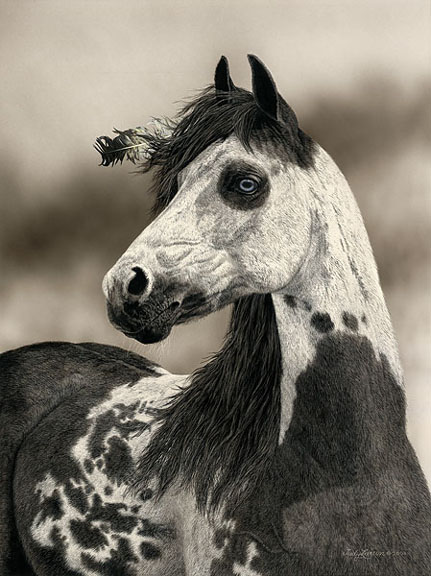 $ Call

Signed Limited Edition Giclee on Canvas, Unframed
Image Size: 18 X 24 in.
Edition Size: 200
Low Inventory
"Native American legends have always intrigued me," says Judy Larson, "especially those involving talking animals. So it was difficult not to be enthralled by one such story, a Cheyenne legend in which an eagle is trapped in a dead elk's antlers. After asking for help from a warrior who is out hunting, he is set free. The eagle is so grateful that his life has been saved that before flying away, he tells the man to go to the other side of a hill and to look below. There the warrior sees his reward, a beautiful stallion covered with black and white spots exactly like an eagle's feathers."
Spotted eagle feathers, highly prized by Native Americans, come only from the tail section of immature golden eagles. In Eagle's Gift, Judy has replicated the eagle feather pattern on the horse's coat and has hidden therein an eagle or two.
---