Tres
Available to Order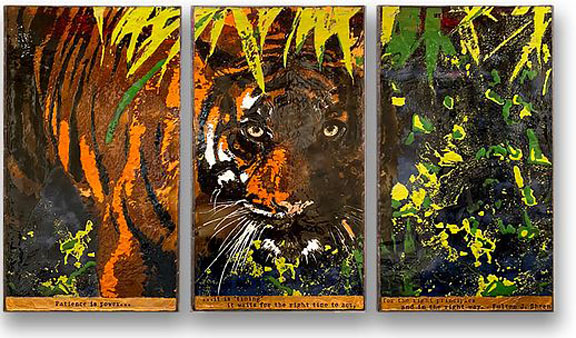 $ 3,000.00
(Free Shipping)
Add To Cart
"Tres" by Houston Llew
Set of Three Molten Glass on Copper, Floating Wall Mount
Measurements: 14 X 24 X 2 in. each panel
Edition Size: Time Limited
Quote on Artwork: "Patience is power... it is "timing" it waits for the right time to act, for the right principles and in the right way." -Fulton J. Sheen
As Tres waits patiently for the perfect moment to act, quietly watching, blending into his surroundings; he will remind you that life is always about patience. The right moment will appear when the moment is right.
Copper and enamel artwork with floating wall mount. The art is mounted to a birch and pine block and designed to float from the wall. Handcrafted in the U.S.A.
Each piece is made to order so allow 10-14 weeks for delivery. The pieces arrive ready to hang. These wonderful artworks will never fade or tarnish and may be enjoyed in sunny or humid spots where other art may not endure.
---