Sea Worthy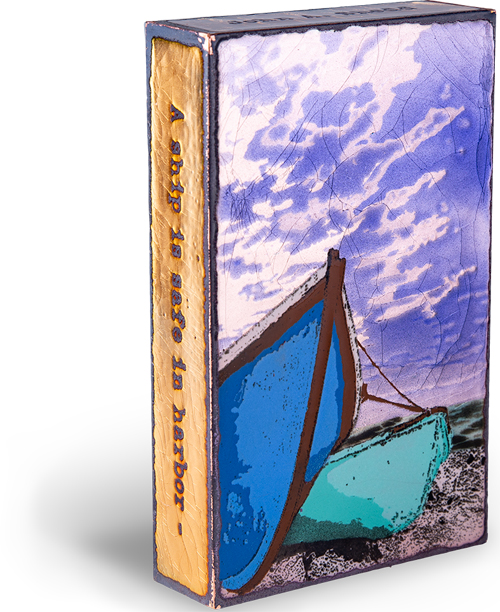 $ Call
(Free Shipping)

"Sea Worthy" by Houston Llew
Item #240
Molten Glass on Copper Tile
Tile Size: 5.25 X 1.75 X 8.5 in.
Quote on Spiritile: "A ship is safe in harbor, but that is not what ships are built for." – John A. Shedd
For so long, the little boat stayed ashore, protected by the coast, sheltered by the presence of other boats nearby. Curiosity about what lie out on the water grew, then waned every time the waves seemed too big. What if the waves would become too much? No, it was much safer to stay ashore. But was it? A new storm blew through, and like the winds of change, the waves washed up to meet the little boat. Life came up to meet the vessel, and said "It's time." For this little boat was not built to live ashore, but to venture out, far and wide, exploring the waters beyond, whether they be wild or calm. Thus began the little boat's adventure in the unknown.
Spiritiles are molten glass on copper art collectibles that capture the spirit of the enlightened moment. Handcrafted in the U.S.A., Spiritiles bring luminous imagery to life and share timeless ideas on their golden sides.
Spiritiles easily wall hang or stand alone. These wonderful artworks will never fade or tarnish and may be enjoyed in sunny or humid spots where other art may not endure.
---