Canvas
Retired Dec 31, 2021
Only 2 left!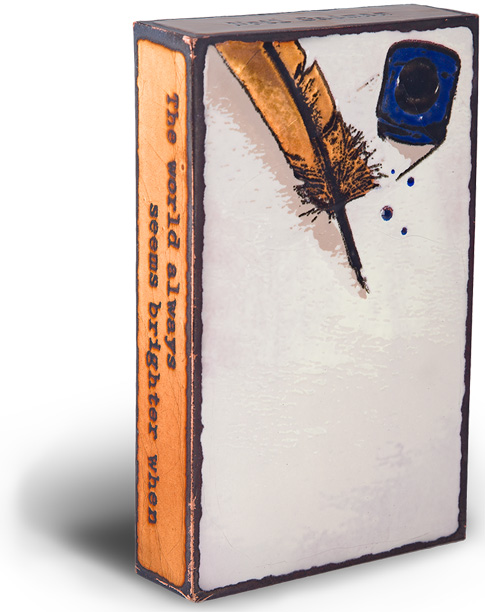 $ 163.00
(Free Shipping)
Add To Cart
"Canvas" by Houston Llew
Item #234
Molten Glass on Copper Tile
Tile Size: 5.25 X 1.75 X 8.5 in.
Quote on Spiritile: "The world always seems brighter when you've just made something that wasn't there before."- Neil Gaiman
"Few things are quite as daunting as a blank page. The creation process often feels like what Ernest Hemingway coined as "staring down the White Bull." Two dimensional white noise stares back at you, and it becomes tempting to leave the page as is. This is how so many great ideas remain just that: a possibility unrealized. When we mark the first drops and lines of ink on the page, we take the creative bull by the horns. We say "not today!" to our fear and a resounding yes to our hopes, dreams, and ideas. Whatever we create, be it draft, sketch, or finished work, lights up our world."
Spiritiles are molten glass on copper art collectibles that capture the spirit of the enlightened moment. Handcrafted in the U.S.A., Spiritiles bring luminous imagery to life and share timeless ideas on their golden sides.
Spiritiles easily wall hang or stand alone. These wonderful artworks will never fade or tarnish and may be enjoyed in sunny or humid spots where other art may not endure.
---