Untamed
One in Stock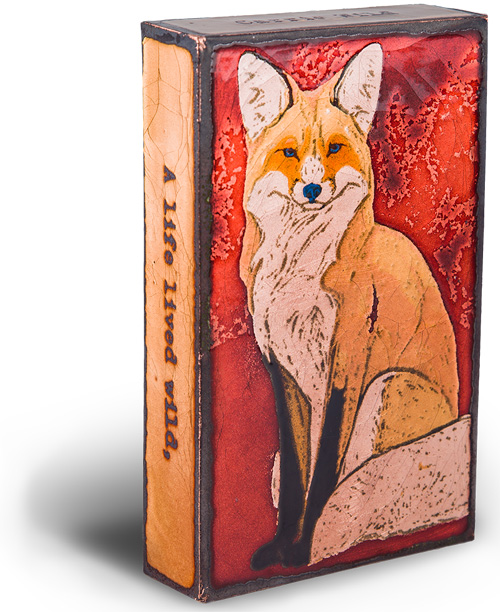 $ 163.00
(Free Shipping)
Add To Cart
"Untamed" by Houston Llew
Item #233
Molten Glass on Copper Tile
Tile Size: 5.25 X 1.75 X 8.5 in.
Quote on Spiritile: "A life lived wild, is a life well lived."- Carrie Wild
"Regal and watchful, the red fox turns its eye directly towards the world and aims to adapt to any environment, being tamed by none. It exists on every continent but one. The fox survives in the rural grasses and the urban jungle, using its cunning instincts to sustain its pups all while keeping the heart of the wild in their paws. We can learn so much from a creature that manages to adapt to a changing world while remaining fundamentally untamed."
Spiritiles are molten glass on copper art collectibles that capture the spirit of the enlightened moment. Handcrafted in the U.S.A., Spiritiles bring luminous imagery to life and share timeless ideas on their golden sides.
Spiritiles easily wall hang or stand alone. These wonderful artworks will never fade or tarnish and may be enjoyed in sunny or humid spots where other art may not endure.
---