Tsunami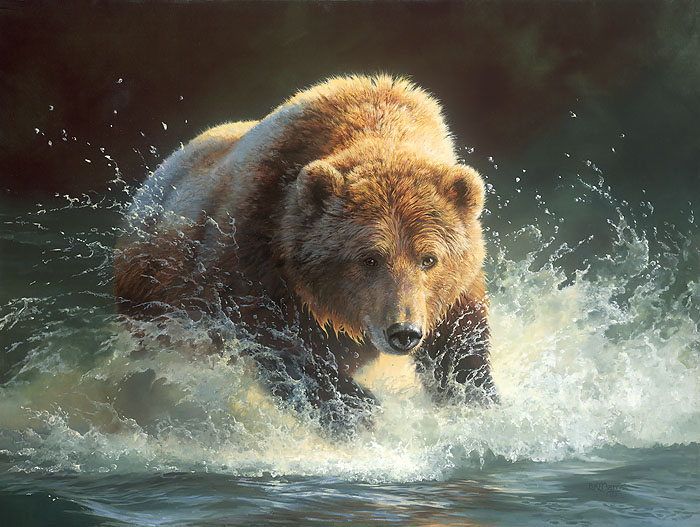 Tsunami
$ Call
"Tsunami" by Bonnie Marris
Signed Limited Edition Giclee on Canvas, Unframed
Image Size: 28 X 21 in.
Edition Size: 75
Tsunami (Masterwork)
$ Call
Add To Cart
Signed Limited Edition Masterwork Giclee on Canvas, Unframed
Image Size: 40 X 30 in.
Edition Size: 25
1,200 pounds of Ursus arctos horribilis churns an Alaskan river into a chilling eruption of spray and white foam. "It is a thrilling thing to watch a grizzly fishing ¯ something like watching a front-end loader in the water," says Bonnie Marris, "but, when a bear senses an incursion on its fishing spot, the scene becomes electrifying! Command of a prime fishing location is paramount. A grizzly in control of one will protect it ferociously, while other bears are always seeking out a less-dominant bear they can remove."
"Tsunami" is the quintessential image of North American brown bear, capturing the concentrated power of this great animal unleashed. One of the painting's hallmarks: whereever you stand in a room, the grizzly always appears to be charging at you. Unveiled at the Autry Center's 2012 Masters of the American West, this magnificent art ran neck and neck with another of Marris' works, "Social Viewpoints," in the voting for the David P. Usher Patron's Choice Award.
---