Three Little Pigs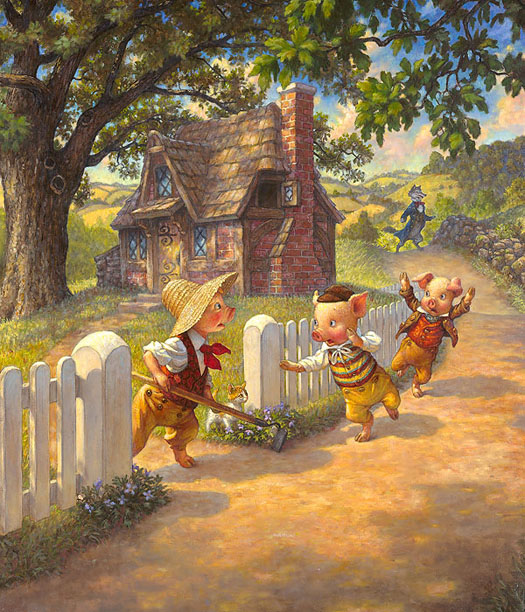 Three Little Pigs
$ 75.00
Add To Cart
"Three Little Pigs" by Scott Gustafson
Giclee on Canvas, Unframed
Image Size: 12 X 14 in.
Edition Size: Open
Three Little Pigs (16X20)
$ 125.00
Add To Cart
"Three Little Pigs" by Scott Gustafson
Open Edition Giclee on Canvas, Unframed
Image Size: 16 X 20 in.
Edition Size: Open
"Drop the hoe! Do not stay! The wolf will blow your house away!"
But the third little pig said, "Come inside, double quick! My little house is made of brick!" In a moment all three little pigs stood behind the locked door of the brick house.
There was a loud knock on the door, and the wolf said, "Little pigs, little pigs, let me come in!"
To which the pigs replied, "Not by the hair of our chinny-chin-chins!"
"Well!" said the wolf. "Then I'll huff, and I'll puff, and I'll blow your house in!"
So he huffed and he puffed, and he puffed and he huffed, but he soon learned that with all of his huffing and puffing he could not so much as even loosen a shingle off the little pig's brick house.
Award-winning artist Scott Gustafson is widely recognized for his classic, opulent paintings, many of which are inspired by best-loved fairy tales and nursery rhymes. His enchanting artwork can be found in best-selling books including "Classic Fairy Tales" and "Favorite Nursery Rhymes from Mother Goose." Scott Gustafson's Gift & Decor editions from The Greenwich Workshop look terrific together as a suite of affordable art from a children's master storyteller. Let your child's wall tell a story!
---