Barney Model Sheet and Color Model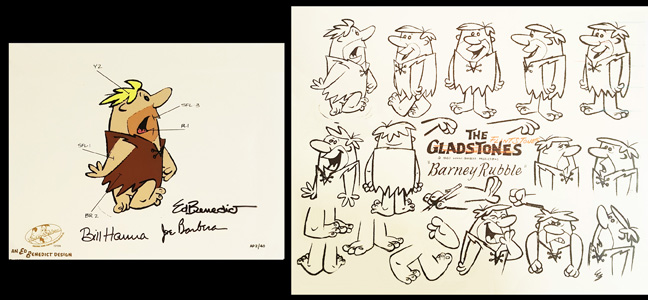 $ Call

"Barney Model Sheet and Color Model" by Hanna Barbera
Signed Limited Edition Hand painted Cel, Unframed
Signed by Bill Hanna, Joe Barbera and Ed Benedict
Model Sheet Image Size: 16.5 X 13.5 in.
Color Model Sheet Image Size: 10.5 X 12.5 in.
Edition Size: 400
Model sheets were designed in animation studio production to show a standard for how any given character would look in different poses. Since many animators could work on a single production, this model helped keep the character uniform looking throughout a cartoon. The Color Model cel established the characters coloring as a permanent reference tool.
This color model cel and model sheet of Barney was designed by Ed Benedict.
Item #TW1013 "Cutting The Deck" by Hanna Barbera
Signed Limited Edition Hand painted Cel, Unframed
Signed by Bill Hanna and Joe Barbera
Image Size: 25 X 14 in.
Edition Size: 400
Featuring Various Hanna-Barbera Characters
Item #TW1037
---