Dressmakers Shop 1886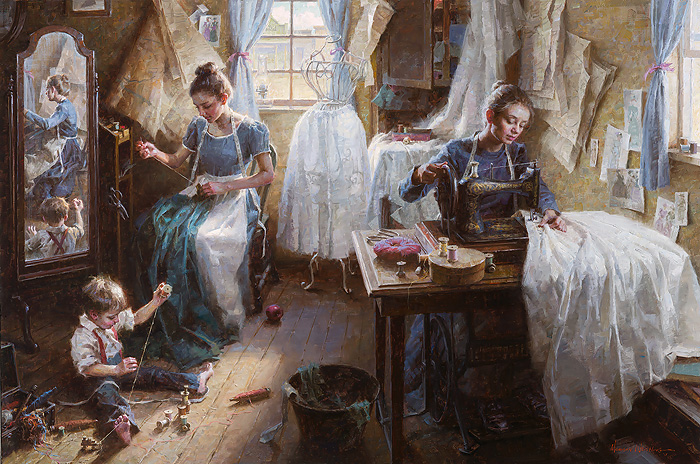 Dressmakers Shop 1886
$ Call
"Dressmaker's Shop, 1886" by Morgan Weistling
Signed Limited Edition Giclee on Canvas, Unframed
Image Size: 30 X 20 in.
Edition Size: 50
Dressmakers Shop 1886 (Masterwork)
$ Call
Add To Cart
Signed Limited Masterwork Edition Giclee on Canvas, Unframed
Image Size: 42 X 28 in.
Edition Size: 25
I was fortunate to have a mother who sewed, and I grew up playing with spools of thread and loose buttons on the floor. At the time, I maybe wasnít always so pleased (home-made school clothes), but I also got custom superhero costumes that were amazing. So when it came time to expand this little world I am creating for my characters to tell their stories, I felt right at home. Annie is at the sewing machine working on a full skirt while her apprentice does some stitching by hand. The apprentice is Emily. I started her story years ago with a painting titled The Apple Girl. And of course, little Micha, the dressmakerís son, is on the floor forming fond memories of growing up around the wonderful tools of this ancient art form and trade.
---