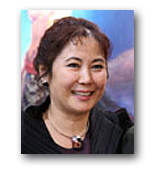 Jia Lu



Jia Lu is an artist who feels strongly that beauty is the final measure of all things. True beauty, born of self-knowledge and self-understanding, burns in her art like a beacon. The paintings of Jia Lu seem filled with a spiritual light that announces the undeniable presence of the divine.

Born in China in 1954, Jia Lu (rhymes with ya-hoo) grew up in a family of artists. Acting, poetry and art classes filled her early years and fired her restless imagination. Soon, however, the Great Cultural Revolution swept down upon Beijing with destructive violence. Many of her family members and art teachers were targeted for persecution.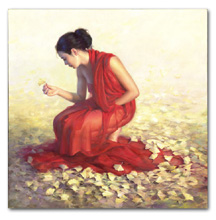 Jia Lu was forced to adapt to the radically changing conditions in China in order to survive. She turned her hand to many different pursuits, working as a nurse (gaining invaluable first-hand knowledge of human anatomy), a film and television actor, a naval officer, an art editor for a magazine and a professional basketball trainee. Luckily she was a couple of inches shy of making the national team, so she chose the direction of her heart and enrolled in the Central Academy of Art and Design.
In 1983, already an accomplished figure painter, Jia Lu left for Canada. Plunged into a foreign culture without a word of English, Jia utilized her impressive intelligence and adaptability to find friends and collectors, learn the language and continue her education. She found work in the visual arts department at York University. Her realistic painting style made her an outsider at this bastion of contemporary art, but she never abandoned her dream-like imagery and polished style. When a rare opportunity arose to travel to Japan to work on a huge project in Tokyo reproducing ancient Buddhist cave murals, Jia seized this chance to explore her cultural roots.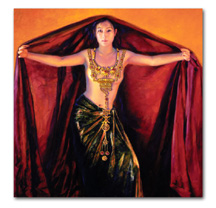 Then, in the summer of 1995, she and her future husband Geoffrey spent two months in the museums of Paris and London, immersed in the great works of sculpture, architecture and painting. She returned home to Canada deeply inspired, determined to capture the magnificence and universality of the human figure.
Jia Lu delights in beauty wherever she finds it. Her sense of confidence and hope is contagious, both in her personality and in her art. Sharing her love of the beautiful, Jia sends her paintings out into the world to remind us that there is, in essence, no separation between the human and the divine.
"Just as the Himalayas were once ocean floor, so all things change in an endless cycle," says the artist. "Life is merely a part of this grand transformation. Yet there is a part of us that continues unchanged through all these changes: a soul, a divine spark, a portion of the eternal we carry within us forever."
Her work is found in public, private and corporate collections around the world. She lives and works in Los Angeles.



View